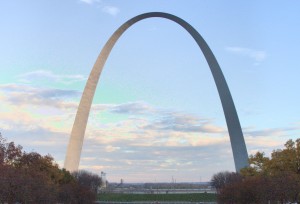 Frugal is back in the building…
Returned from St. Louis earlier this week after a long but fruitful event with COGIC and my old friends at Zeo Brothers.  We hung a bunch of XLc.  Including a rig in the dome where the Rams play.  I spent most of my time on the day shift in the main hall of the convention center with seats set for about 10,000.  Had a good long time to get used to mixing on the Venue platform.  I have to confess, it sounds pretty good.  I'm not a Digidesign fan, I've always hated ProTools and really resent being told I must use a particular platform.  But, with their live consoles, I think Avid has a solid product on their hands.  Given my choice I'd still rather mix analog but I was out of date when I was born and this just isn't that world anymore.  More specifically regarding the SC48– it's kind of a small surface to handle 48 or more inputs and out of the box it's a little limited in i/o at FOH.  Mostly "i" as there's plenty of "o" for most folks.  It looks like Avid has put out an option card that would remedy that in most situations.  The Venue IO16 card looks like it would add a good dose of general purpose analog and digital ins/outs to the console.  Having spent most of this year mixing on an XL8 and previously lots of time on PM5Ds the Venue still feels a little foreign to me.  Some of that I'm sure is particular to the SC48 where a lot was crammed into a small surface.  Hopefully I'll get some time on a Profile soon for comparison.  I like the "spill" feature on the VCAs but, having to double tap select to get into "spill" mode seems silly to me.  I would prefer to have the option to make selected VCAs automatically spill whenever selected as they do on an XL8. Having the option to add TDM plugins is nice, but for a mostly one-off guy like me doesn't do much.  Unless I was touring with Venue regularly I'd have a tough time justifying the cost of a bunch of plugins.  Since half (if not most)of the consoles on the market don't support 3rd party plugins at all and none are cross platform that I'm aware of, it would be a waste of my money.  It baffles me that Yamaha, who now own Steinberg, has not created an option to use VSTs with either the PM5D or the M7.
Tomorrow I'm off to Rochester for a day of old school funk.  Then Monday it's back to the local venue for more install work in preparation for a winter of shows in the smaller room.
Grateful to be working when so many folks aren't.